Le Soleil des Landes
A CAMPSITE WITH WATER PARK IN LES LANDES
At Le Soleil des Landes campsite, laughter, happiness and well-being are the order of the day for all holidaymakers. Children and adults get together in the water park. Fans of relaxation, young children and lovers of waterslides will enjoy the many facilities of the campsite's water park.
A HEATED SWIMMING POOL WITH A SLIDING ROOF
The sun shines over Les Landes all year round. In summer, temperature can often rise above 26 °C. Enjoy the mild climate of South-West France in our campsite's water park.
As soon as the first rays of sunshine peep through, our heated indoor pool is transformed. The roof opens onto the blue sky of Les Landes. Children and adults alike can swim, play and jump into the 20-metre-long pool.
And there's all the fun of the four-lane waterslide to enjoy.
For added convenience, the different areas of the water park at Le Soleil des Landes campsite are separated.
Practical information:
Opening dates: from 09/04 to 18/09
Opening hours: from 10 am to 8 pm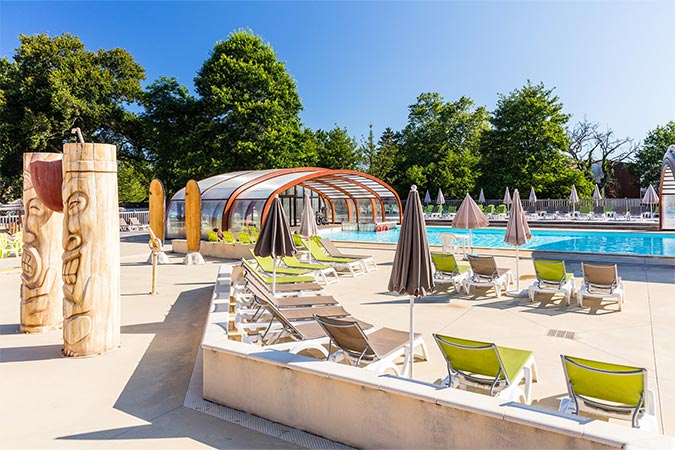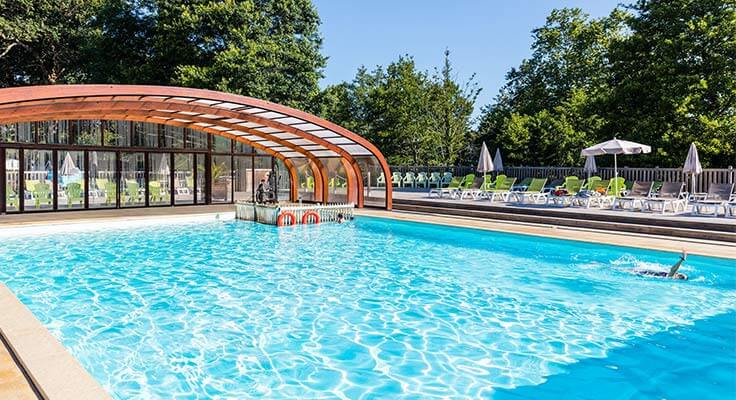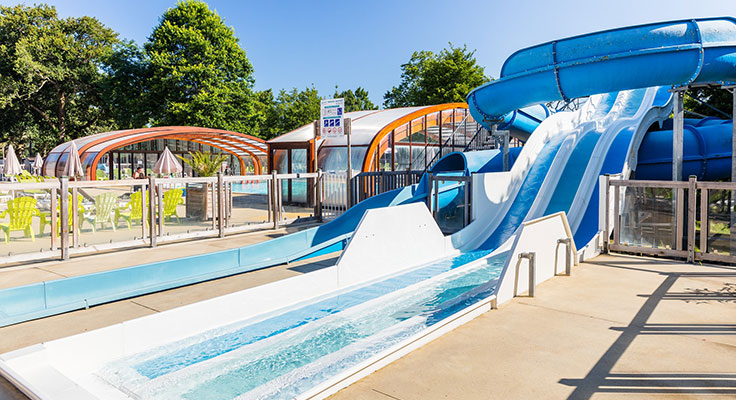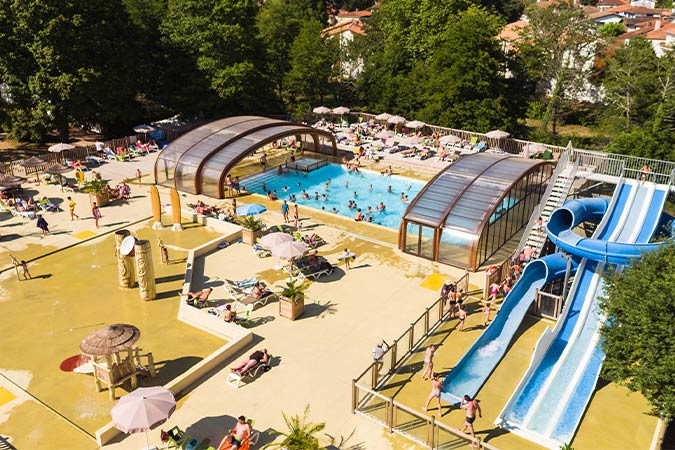 A SAFE SPACE FOR CHILDREN
At Le Soleil des Landes campsite, our youngest guests can discover the joys of swimming, in complete safety.
In our water park, toddlers can have fun in the specially designed paddling pool. And they can cool off by playing under the water fountains. Laughter echoes around the water park as they whizz down a specially designed slide for very young children.
To ensure the safety of the children while the adults enjoy the sun, deckchairs are available on the water park's solarium.
Good to know: access to the water park is not permitted to children under 12 years of age, unless accompanied by an adult.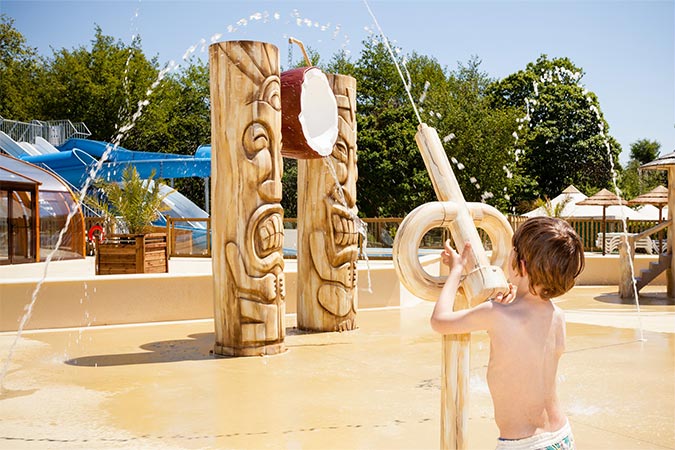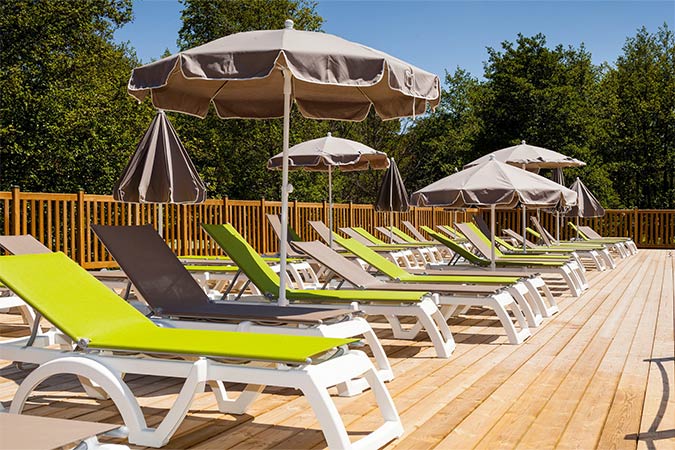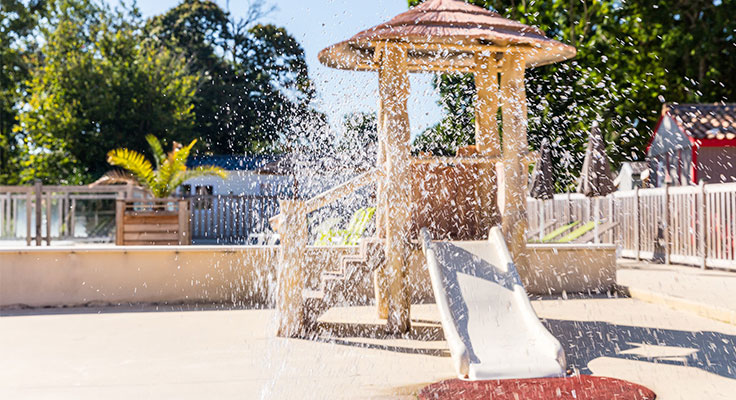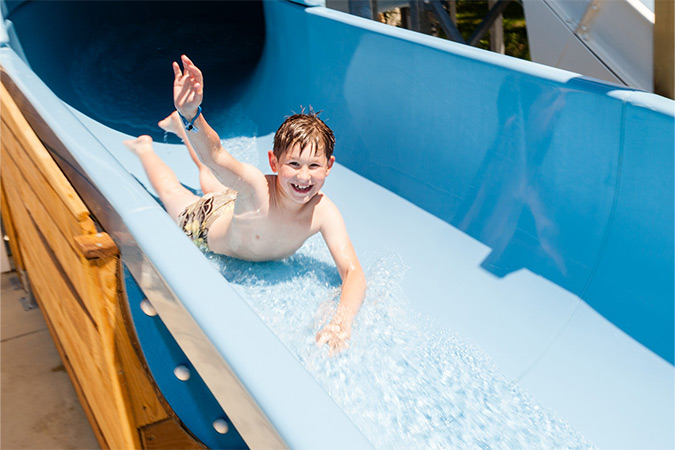 GAMES & ENTERTAINMENT ALL SUMMER LONG
Throughout the summer, our team of organisers will make your stay at Le Soleil des Landes campsite an unforgettable experience.
The great entertainment and sporting activities allow every holidaymaker to enjoy sharing the company of others by Le Soleil des Landes pool.
Whether you are an experienced athlete or a complete beginner, our lifeguards will help warm up your muscles with an aquafun session. With good humour and a sense of fun, you'll enjoy a moment of pure pleasure with a gentle sport adapted to all levels. Swimming lessons are also offered in the water park. Ask at reception at any time during your stay.
Several times a week, the staff at Le Soleil des Landes campsite turn the swimming pool into a giant playground. Armed with their dynamism and joie de vivre, they organise group games.
Celebrate in the water park pool under the stars. Music, dance and games mix with the joy of swimming.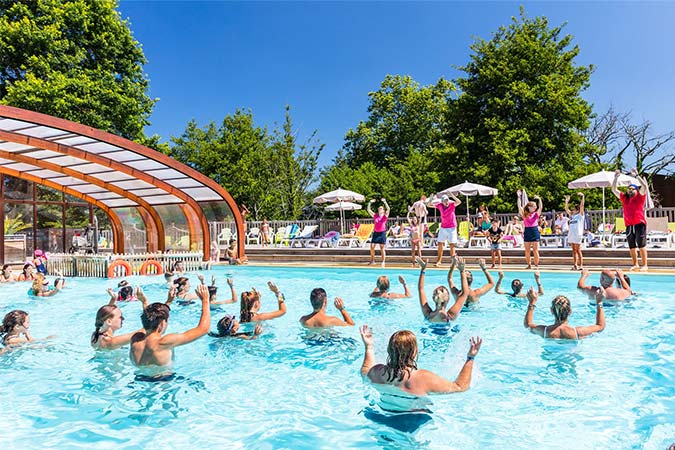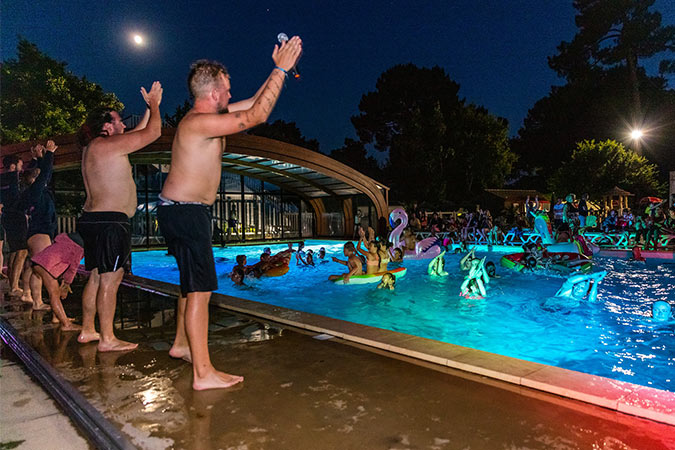 WELL-BEING SPACE
Holidays are a good time to take care of yourself and take a break from everyday stress. At Le Soleil des Landes campsite, you can take time out for yourself. In between swimming in the water park, sports sessions, walks and days out, you can treat yourself to a moment of relaxation and well-being.
From June to September, our masseur and osteopath, Benjamin Dunaux, offers his services at Le Soleil des Landes campsite. Every day, it offers you treatments suited to your needs.
List of services:
osteopathy sessions;
personalised massages for individuals and couples;
body and facial treatments;
yoga classes.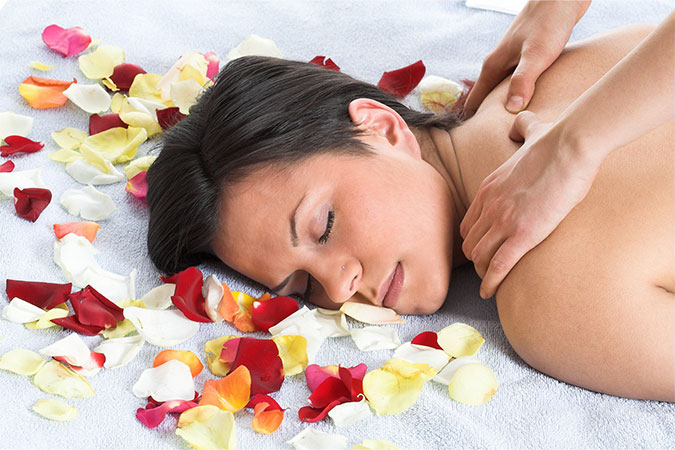 SEE THE ACTIVITIES AND ENTERTAINMENT AT LE SOLEIL DES LANDES CAMPSITE